Steve Rainey thrilled with everything he sees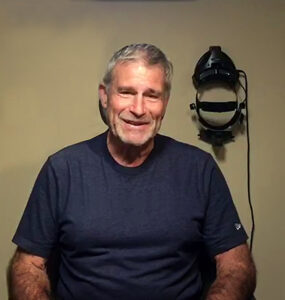 Soon after his 40th birthday, Steve Rainey, of Atlanta, Texas, says his arms "got too short." Like so many others, he began wearing glasses but as the years passed, he noticed his eyesight grew progressively worse.
The estate and financial planner, now 73, began to have trouble seeing during the night. He became sensitive to light and glare. He needed brighter than normal light to read or see objects.
"I told my kids that the only part about getting older that I didn't like was I couldn't see," Rainey says. "I got so dang frustrated."
Eventually, as his distance vision was affected, a definite problem for someone who likes to hunt, Rainey made an appointment with optometrist Stephen W. Lewis, OD, of WK Eye Institute. Cataract surgery was suggested and Rainey was told about a new lens option unlike any on the market before.
The Alcon AcrySof®IQ PanOptix® Trifocal intraocular lens, approved in the United States by the FDA in August, is a new generation of vision correction that provides cataract patients with or without astigmatism clear vision at near, intermediate and distance.
The new lens is a type of multifocal intraocular lens used to focus images clearly onto the back of the retina to allow clear vision after cataract removal. In addition, the center of the PanOptix® Trifocal lens allows for better near (reading) vision and intermediate (computer work) vision versus what a monofocal lens would provide. Using ENLIGHTEN® Optical Technology, the proprietary design significantly reduces the need for glasses after surgery.
Rainey opted for the PanOptix® Trifocal intraocular lens and surgery was scheduled with Christopher Shelby, MD, of WK Eye Institute. On Tuesday, Sept. 3, Rainey became the first patient in Louisiana to receive the lens.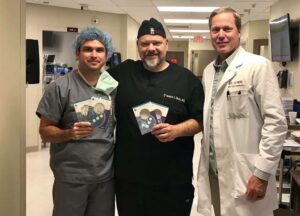 Twenty million people in the United States age 40 and older have cataracts. More than 3.8 million cataract procedures are performed each year. When you are young, the natural lens of the eye acts as a zoom function in a camera, allowing you to see near and far objects clearly. As you age, the lens may become hard, yellow and cloudy – this is a cataract – allowing less light to pass through, which makes it more difficult to see. Cataracts result in blurred vision, glare, poor night vision and incorrect perception of colors. To restore vision, a surgeon removes the cloudy lens and replaces it with a permanent artificial intraocular lens such as the PanOptix® Trifocal lens. In clinical trials of PanOptix,® 99 percent of patients would choose the same lens again.
"PanOptix® is a big game-changer," Drs. Shelby and Lewis agree. "For the first time now for patients who want to be less dependent on their glasses, we have technology that can deliver terrific vision at all distances," Dr. Shelby says. "When you see a patient doing things once again because they truly have their vision restored and can lead a normal life without being dependent on glasses, it's emotional."
"I'm telling you I could not be more thrilled," Rainey says. "I'm driving a 3-quarter ton Denali truck and I've found stuff on the dash – bells, and whistles – I had never seen."
Says son Blake Rainey: "I went to pick him up from his first surgery and he was sitting there reading his phone 30 minutes after surgery. I couldn't believe it. After his second surgery, I was driving him home and he started reading the mileage on the dash…in less than an hour. He couldn't see the mileage before even from the driver's seat."
"I feel like a new man," the senior Rainey says. "I'd do it again in a heartbeat."