The Cataract Surgeons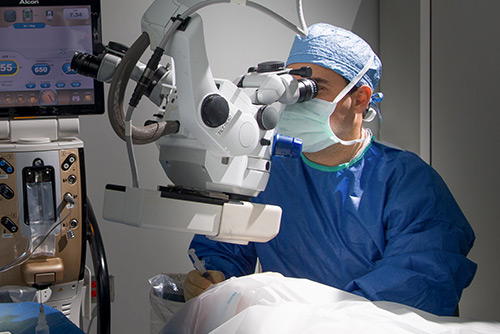 Technology has improved the safety and outcomes of cataract surgery. In traditional cataract surgery, several small incisions are made manually with a blade and a manual technique is used to break up the cataract. Our surgeons were the first in Louisiana to offer the newest LenSx technology with laser-assisted cataract surgery.
An image-guided femtosecond laser allows our surgeons to make incisions with efficiency and precision without the use of a blade. The laser also assists in breaking up the cataract so that removal of this cloudy lens requires less ultrasound energy, which is easier on the eye. This new laser technology also allows for better management of our patient's corneal astigmatism. This technique is available only with the premium lens implants, which ensures the best visual outcome for our patients.
Our goal through this latest technology of laser-assisted cataract surgery along with premium lens implants is to increase the likelihood of patients not needing glasses following their cataract surgery.
Why LenSx® Laser Cataract Surgery is a Better Option
From the first incision to recovery, LenSx® serves as a superior alternative to traditional cataract surgery. A form of laser cataract surgery, LenSx® uses modern technology to make the process less intensive and more precise while providing benefits almost immediately.
Traditional cataract surgery relies on the surgeon's steady hands and deep concentration to make the first cut into the eye. If the surgeon's mark is off, they may need to extend the incision. This larger cut will often require stitches to help close it. These stitches will remain on the eye for at least a week.
LenSx®, though, uses micro-images of your eye to help the surgeon find the ideal incision spot. They can then use a laser to make a small, accurate cut.
Furthermore, LenSx® only needs half the ultrasonic energy of traditional cataract surgery to help remove the damaged lens. This makes surgery less painful and incurs less trauma and inflammation.
Because of its sophisticated computer mapping process, LenSx® can also insert the new lens, called an intraocular lens, more efficiently and accurately than typical cataract surgery. This makes recovery easier, with vision improving almost immediately after the surgery and without the added pain, discomfort, and other side effects of previous lens replacement processes.
LenSx® FAQ