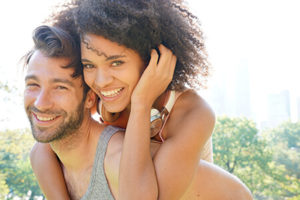 Laser eye surgery has helped millions of people, just like you, see clearly independent of glasses or contact lenses. LASIK, SMILE® and PRK can enable people to resume their active lifestyles again without the aid of glasses and contact lenses. Imagine being able to work out without the inconvenience of your glasses slipping. Picture waking up and being able to see the alarm clock first thing in the morning. Envision life without the hassle of putting lenses in each day free and free of the worry they will dry out as the day passes. If you are ready to say good-bye to all of these annoyances, Laser Vision Correction is just the thing for you.
Because The Cataract Surgeons are the refractive eye care experts, Dr. Shelby, and Dr. Coleman perform a variety of vision surgeries to improve eyesight. In addition to being the only medical facility in Louisiana to offer SMILE®, they also perform two other laser vision correction procedures; LASIK and PRK. They know eye surgery isn't a one size fit all, and because of this, they treat patients on the case by case basis. That's why they have trained extensively in the use of several different techniques and sought out only the best technology to bring to the Ark-La-Tex.
Laser vision correction is a type of refractive surgery. The goal of any refractive surgical procedure is to reduce or eliminate the need for glasses or contact lenses. In laser vision correction procedures such as LASIK, SMILE®, and PRK the cornea is the clear 'window' in front of your pupil. Reshaping this surface allows images that enter the eye to focus properly on the retina (the sensitive layer of tissue lining the back of the eye that allows you to see objects and images).
FAQs
If you live in the Shreveport area and want to undergo a minimally invasive procedure to improve your eyesight, SMILE® LASIK could be perfect for you. Contact The Cataract Surgeons today to learn more about SMILE® LASIK and whether this new procedure could be beneficial for you.
---
LASIK
Considered to be 2nd Generation Laser Vision Correction, Laser-Assisted In Situ Keratomileusis, also known as LASIK, is the most popular refractive surgery performed in the United States. This procedure is often used to treat patients with Myopia (nearsighted), Hyperopia (farsighted), and have astigmatism.
LASIK's popularity stems from the pain-free and quick procedure. Typically, it only takes 15 minutes to treat both eyes. Once the surgery has been completed, the patient will notice improved vision immediately. Over the next several days, their vision will continue to improve until the eyes stabilize. 
How Is The LASIK Procedure Performed?
LASIK requires the use of two lasers, one of which is a VisuMax Femtosecond Laser. This laser is used to gently create a flap at the top layer of the cornea.

The patient is then escorted to the most advanced excimer laser with state-of-the-art wave technology, the EX500 Excimer Laser. This laser reshapes the cornea under a protective layer of tissue. The EX500 Excimer laser is extremely precise and uses cool ultraviolet light to treat the cornea. At this point, Drs. Shelby and Coleman will reposition your flap back into its original position, where the healing process will begin.
Depending on the vision issue, the doctors will try to achieve different goals. Those with farsighted vision will need their cornea steepened to improve their eyesight. Nearsighted people, though, will need their cornea flattened. Patients with astigmatism, additionally, will have their misshapen corneas molded into a more typical shape.
LASIK surgery is safe and pain-free. No anesthetic is required except for topical drops in the eye. There's also no need for bandages or stitches with LASIK. 
What to Do Before LASIK Surgery 
To ensure you're an ideal candidate for LASIK eye surgery, the first step is to receive an eye exam. During this examination, your doctors will assess certain indicators of your eye's overall health: 
The shape and thickness of your cornea 

The size of your pupil 

The tear film on the surface of your eyes 

Any refractive issues, such as astigmatism, nearsightedness, and farsightedness 

Other diagnosable eye conditions 
This helps to ensure your eye is healthy enough to undergo the procedure. It also helps prevent any issues with dry eyes post-surgery. 
Your doctors will also map your cornea with the help of a tool called a corneal topographer. The corneal topographer charts the precise curves at the front of your eye. You will also likely receive a wavefront analysis of your eyes. This instrument provides an even better picture of your eye and helps uncover where abnormalities exist. It's able to do this by pushing light waves through your eye. 
As the final step of determining your eligibility for the procedure, your doctors will conduct a general health survey. You'll be asked about your medical history and whether you are currently taking any medications. 
Around two weeks before your exam and your surgery, you should cease wearing contact lenses. Contact lenses can affect the shape of your cornea, which makes it difficult to identify the specific issues that require surgery.
What to Expect During LASIK 
LASIK is a safe and pain-free procedure. To help reduce discomfort, your doctors will administer topical eye drops that numb your eyes. If needed to help with anxiety, your doctors may provide additional medication. 
The procedure begins by positing your eye under the laser. To help keep your eyelids open, your doctors will use a tool called a lid speculum.  
While the excimer laser does its work, you'll be tasked with looking directly into a target light. Your doctors then use a microscope to watch your eye. 
The excimer laser will send painless pulses of light to your cornea. This helps to mold the cornea into an ideal shape, which improves your vision. 
It's common to feel pressure on your eye during the procedures. From an auditory standpoint, you'll also hear the standard steady click of the working laser. 
Each eye only needs around five minutes to complete. With set-up and other in-procedure tasks, the whole surgery should take no more than 15 minutes. 
What to Expect Immediately After LASIK Surgery 
Immediately after the procedure when our patients sit up, they already notice a vast improvement in clarity and vision from before the procedure. Continual visual recovery occurs over 24 hours, and after waking from your post-op nap, there is minimal discomfort after surgery, such as a burning or itching sensation.
You'll likely experience some blurriness or haziness at first. Both should dissipate by the next morning.
You'll need someone to drive you home once the surgery has been completed. You won't be approved to drive until your doctors see that your eyesight has improved enough to meet the legal standard to drive, which is usually 20/40 vision. Typically, this follow-up examination occurs the next day. 
While most people will see immediate improvements in their eyesight, others may need a few days for the vision to improve and stabilize. A select few may need at least a couple of weeks for improvements to be seen. 
This surgery is considered to have a minimal impact on your day-to-day routine. However, it is a good idea to rest for at least a day post-procedure. You can go to work the next day, as needed, but it's best to shy away from anything that could affect the healing process. This includes avoiding high-intensity workouts or exercise. 
Protecting your cornea is the priority over the first few days after surgery. So, you should do your best not to rub your eyes during that time period. 
Long-Term Results 
Improving your eyesight can have a major, positive impact on your day-to-day life. While some people only achieve 20/40 vision post-surgery, most end up with at least 20/20 visual acuity.
In some cases, eyeglasses or contact lenses may still be needed, albeit at a much lower prescription than before. As you approach your 40s, it is possible to need reading glasses, for instance. 
LASIK is considered safe and reliable. However, sometimes complications can occur. Though rare, some people develop infections after their surgery. Some also experience night glare, which can create a halo-effect around bright lights. If you have any questions about the procedure, you should make sure to discuss them with your doctor. When surgery is over, it's essential to follow their directions to help reduce the chances of needing a LASIK enhancement procedure.
---
SMILE®
Laser Vision Correction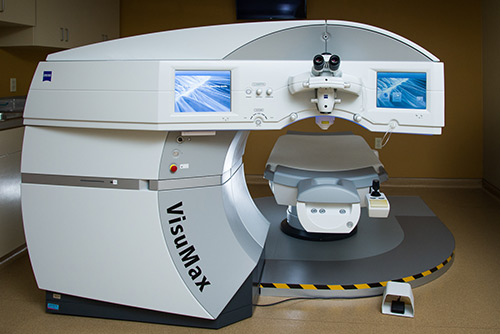 SMILE®, also known as third-generation Laser Vision Correction, is a state-of-the-art procedure that is less invasive, has minimal downtime, and less discomfort. This procedure is perfect for people who suffer from nearsightedness with astigmatism but do not qualify for traditional LASIK. SMILE® is a LASIK-like procedure available to improve their vision with all of the benefits of traditional LASIK. As the refractive eye-care experts, The Cataract Surgeons are the only specialists with the technology to offer SMILE® in Louisiana!
What Are the Benefits of SMILE®?
Because SMILE® relies on a single 4mm incision, it is less invasive than traditional LASIK. With the incision being so much smaller than what is required in other Laser Vision Correction procedures, our team can preserve the cornea's integrity, and post-op dry eye is significantly reduced.  Because the procedure can be completed quickly and has few risks associated with it, many patients who are not eligible for traditional LASIK qualify for SMILE®.
What Is the Difference Between SMILE and LASIK? 
The SMILE® procedure was designed primarily to improve eyesight for patients who struggle with Myopia with astigmatism, commonly called nearsightedness. While traditional LASIK requires the use of two separate lasers, SMall Incision Lenticule Extraction, aka, SMILE®, improves Myopia with the use of a single ReLEx SMILE® laser. This procedure uses a special laser to create a thin, contact lens-shaped layer just beneath the eye's surface and then a small 4mm opening, through which the layer is removed. By removing the layer of tissue, the cornea is reshaped, which instantly improves the patients' vision.
This makes SMILE a relatively streamlined procedure when compared to LASIK. The latter eye surgery requires two lasers, one of which cuts the patented LASIK "flap" into the eye's top layer. This incision is much larger than the one needed for SMILE eye surgery. Due to the less invasive cut used in SMILE, the recovery period is much shorter than the one for LASIK and comes with the bonus of less dry eye. 

Can SMILE Eye Surgery Help Your Astigmatism? 
Astigmatism is one of the most common eye conditions in the country. It affects the shape of the cornea, the outermost lens of the eye. Typically, your cornea should resemble a sphere. Those with astigmatism, though, have a cornea that looks more oblong, similar to a football. When your cornea is misshapen like that, you'll have difficulty discerning details in objects at near and far distances. That is, specific objects may look blurry. 
This eye condition can affect people with both nearsightedness or farsightedness. Currently, SMILE eye surgery is only approved to help those with astigmatism dealing with nearsightedness, also known as myopia.  
The history of SMILE eye surgery for those with myopic astigmatism dates back to 2011. The discovery of this new way to treat nearsightedness is considered one of the most considerable eye surgery advances within the past decade. 
Its approval on the global stage helped hundreds of thousands of people worldwide improve their vision. After years of study on the procedure's safety and efficacy, it was approved by the Federal Drug Administration for use within the United States to treat or eliminate myopia in 2016. Two years later, the FDA also approved it for use in treating those dealing with a combination of myopia and astigmatism. 
How Can You Avoid Dry Eye With SMILE? 
If you know someone who has gone through LASIK, you've probably heard their complaints about the long period of post-op dry eye that they've experienced. In some cases, this side effect of the procedure can last up to a year. Those who are typically situated in front of a screen are most likely to be affected. 
This long period of dry eye was due to the large incision required by the operation. When making the incision, the nerve of the eye that detects moisture levels can be damaged. While they do regenerate, you'll probably experience at least some dry eye until they come back. 
However, because SMILE only needs a small incision, the severity and intensity of the damage to the dryness-detecting nerves are more likely to be minimal. This means you'll have a shorter recovery period with less intense periods of dry eye, even if you live in a dry climate. 
The shorter recovery period is born out in both anecdotal and scientific research related to the two procedures. So, the best way to avoid a prolonged dry eye period post-procedure is to receive SMILE eye surgery instead of LASIK. 
Who Is a Good Candidate For SMILE Eye Surgery? 
Another benefit of the smaller incision made during SMILE eye surgery is that the procedure's candidate pool is larger than with LASIK. However, it is not approved for all eye issues. As stated above, in the United States, it's approved for those dealing with myopia or myopic astigmatism. Specifically, SMILE eye surgery can correct nearsightedness up to –10.00 diopters and astigmatism up to –3.00 diopters. If your myopia or astigmatism falls those boundaries, you will need a different procedure or treatment. 
Still, even those with myopia or myopic astigmatism may not be approved for the surgery. Generally, you will need to meet some basic qualifications to be considered a candidate: 
Be at least 22 years old 

Generally good health 

Have a consistent eye prescription that has lasted for at least a year 

Neither pregnant nor nursing 

No history of eye disease 
If you're struggling with myopia or myopic astigmatism and meet these qualifications, then you should request an appointment with our doctors. They are best equipped to examine your eyes and health history to determine if you are a good candidate for SMILE eye surgery. 
What Does Recovery After SMILE Look Like? 
Smile eye surgery is safe and effective with a short recovery period. The majority of patients report their vision has improved by at least 80% within a few hours of the surgery's completion, and most patients report their nearsightedness or astigmatism is eliminated with only a week or two of recovery. 
This short recovery period means you can quickly resume your typical daily routine. Many patients only need a single week to return to physical activities, including strenuous ones like swimming or contact sports. 
You should do your best to avoid screens as much as possible for the first few days after the procedure. This helps your eyes rest and prevents straining that may lengthen the recovery process. Your doctor may also prescribe medications or eye drops in the event of dry eye. 
Is SMILE Eye Surgery Right For You? 
The best way to determine if you're a candidate for the SMILE procedure is to 
request an appointment
through our website. Once scheduled,
our doctors
will examine your eyes and answer any questions about the procedure. If SMILE turns out not to be for you, the doctors can also recommend other procedures that better fit your needs.
---
PRK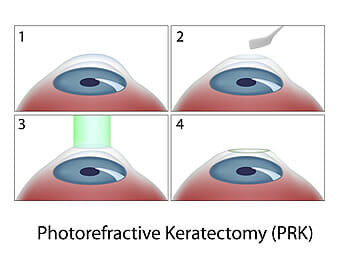 PRK (photorefractive keratectomy) is a refractive eye surgery technique similar to LASIK surgery as both use the excimer laser to reshape the cornea (the front surface of the eye), in order to change its ability to focus light on the retina. PRK is used to correct mild to moderate nearsightedness, farsightedness, and/or astigmatism. PRK can be the procedure of choice for patients whose cornea is too thin. PRK is a procedure that is an alternative to SMILE® and LASIK, though it offers the same great vision correction. It offers the same vision correction as LASIK but differs in the way the surface of the cornea is prepared.
How Is PRK Different From LASIK?
PRK laser surgery differs from LASIK in that a corneal flap is not created before the laser is used to ablate the eye. During PRK, the outermost layer of the cornea, the epithelium, is completely removed. After the epithelial layer is removed, the surgeon uses a laser to reshape the cornea. In LASIK surgery, a corneal flap is created with a microkeratome blade or a laser, allowing the surgeon to access and reshape underlying layers of corneal tissue.
The primary difference between PRK and LASIK is that with PRK the excimer laser carefully sculpts the outer layer of the cornea to create an optimal surface for the eye's lens. Conversely, LASIK surgery involves the creation of a corneal flap using either a microkeratome blade or a femtosecond laser prior to using the excimer laser to correct the inner surface of the eye.
Why Should I Get PRK Instead Of LASIK?
Those who have been told that their corneas are too thin for LASIK and those who have concerns about the creation of a corneal flap may consider PRK as an option for vision correction. Results are generally the same between PRK and LASIK, but the healing and recovery time is significantly longer with PRK.
What Is The Procedure For PRK?
When PRK is performed, the outer covering of the eye is removed, and the EX500 Excimer Laser is used to reshape the cornea.
Once the laser has been completed, a bandage contact lens is placed protecting the eye. Over the next 4-7 days, the soft outer covering begins to grow back and heal. During your recovery, you can see, and function normally.
What Is The Recovery Process For PRK?
Discomfort after PRK may be more severe and last longer (up to two weeks) than the discomfort associated with LASIK. However, the corneal flap created during the LASIK procedure may take years to heal and those with strenuous jobs and/or recreational activities may opt to have PRK rather than LASIK to avoid the risk of damaging the corneal flap. PRK is thought to leave the cornea stronger after surgery in comparison to LASIK.